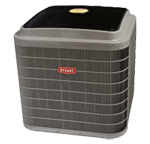 Heat pumps are a great solution for your home comfort system because they work to provide both heating and cooling. Heat pumps have SEER ratings like air conditioners and Heating Seasonal Performance Factor (HSPF) ratings for measuring heating efficiency. Higher SEER and HSPF ratings mean greater energy savings.
Heat pumps are a very efficient alternative to electric heat. A heat pump works the same as an air conditioner in the summer, but it runs in reverse in the winter to heat your home. The system will be matched with a backup heating source, most often electric heat for those extremely cold days of winter.
Just like our air conditioners, many of our heat pumps have advanced features, such as 2-stage compressors and variable speed fan operation. These features not only improve the comfort level of your home, but can provide additional energy savings as well.
Heat Pump Product Offering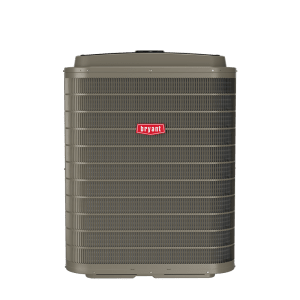 EVOLUTION™ EXTREME 24 VARIABLE-SPEED HEAT PUMP
View Brochure
Model Family: 284ANV
Efficiency SEER/SEER2: Up to 22 SEER2
Efficiency EER/EER2: up to 14 EER2
Efficiency HSPF/HSPF2: Up to 10.5 HSPF2
Energy Star Rated: ENERGY STAR®
Sound Level: 51 dB during lowest capacity cooling operating condition
Refrigerant Type: Puron®
Compressor: Variable Speed Compressor
Factory Warranty Parts: 10-Year Parts Limited Warranty
Factory Warranty Compressor: N/A
Manufacturer's Stated Benefits:
10-year unit replacement limited warranty
Evolution™ air purifier included with purchase
Quiet Mode feature enables homeowners to cap sound levels at 69 dBA
Extreme humidity control - Can remove up to 400% more moisture than standard systems
Over-the-air software update capabilities
Bluetooth® connectivity for enhanced service & diagnostics
Senses operating conditions and adjusts to enhance system reliability
Excellent performance with zoned systems
DuraGuard™ Plus protection for lasting durability against the elements
True variable-speed operation with longer, lower speed cycles to give you more energy savings.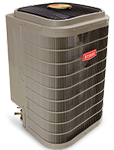 Evolution® Variable-Speed Heat Pump
View Brochure
Model Family: 288BNV
Efficiency SEER/SEER2: Up to 18.5 SEER2
Efficiency EER/EER2: up to 12.5 EER2
Efficiency HSPF/HSPF2: up to 9 HSPF2
Energy Star Rated: ENERGY STAR®
Sound Level: As low as 55 DBA
Refrigerant Type: Puron®
Compressor: 5-stage rotary with as wide as 25-100% capacity range
Factory Warranty Parts: 10-year parts limited warranty upon registration
Factory Warranty Compressor: 10 year limited warranty on compressor
Manufacturer's Stated Benefits:
Sheet metal construction with baked-on, complete outer paint coverage for lasting durability against the elements
Attractive, louvered cabinet protects the coil against physical damage
Optimal dehumidification capability with the Evolution Connex™ Control
Soft start and smooth ramp up to operating speeds
Senses operating conditions and adjusts to enhance system reliability
Excellent performance with zoned systems
Bryant's smallest ducted, variable-speed heat pump can fit discreetly into your landscape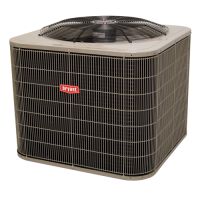 LEGACY SINGLE-STAGE HEAT PUMP
View Brochure
Model Family: 215S
Efficiency SEER/SEER2: up to 15.2 SEER2
Efficiency EER/EER2: up to 12.5 EER2
Efficiency HSPF/HSPF2: up to 8.1 HSPF2
Energy Star Rated: ENERGY STAR®
Sound Level: As low as 69 dB
Refrigerant Type: Puron® refrigerant
Compressor: Single-stage scroll
Factory Warranty Parts: 10-year parts limited warranty upon registration
Factory Warranty Compressor: 10-year Compressor limited warranty upon registration
Manufacturer's Stated Benefits:
DuraGuard™ protection system